Last week for the finale of Project Runway I decided to have some friends over to watch. That way I wouldn't be screaming and throwing things at my television by myself, rather I'd have others around who would be doing the same thing. The thing I was not counting on was accidentally possibly overmedicating myself earlier in the day which resulted in a 3 hour nap at home. Drugs are not fun. Drugs can go to hell. Go to hell I say.

I wanted to do something fancy for the finale, since I felt it was a good time to try a new recipe that I'd seen Giada DeLaurentis (little big head) make. It seemed fairly easy and the most time consuming part of it was caramelizing the onions, which took an hour and a half. But no worry, I downloaded an episode of Jericho and watched the ever so dreamy Skeet Ulrich save the town several times while the onions cooked down. I did this on tuesday night so that I just had to re-heat them on Wednesday and assemble the little rounds to pop into the oven.

I took Giada's advice and purchase a ball of dough from my local pizza shop for $2. Which is a great bargain, in my opinion. I'm a fan of their pizzas but I do find their crust a bit thick and americanized, I prefer a thinner more italian crust on my pizzas.

When it was all said and done, I wasn't impressed with the results. Dont' get me wrong they were fine but something about it was just off. Missing something maybe? I honestly cannot put my finger on it and frankly I doubt I'll be trying this recipe again to figure out where it went off the rails. My guests seem to enjoy them, but there weren't over raves over them. Which is my number one requirement in cooking. I feel there is no need to eat so-so food in life, there are too many good recipes out there to do that.

Unfortunately Jeffery won, he wasn't my favorite. It was a bit of a disappointing night overall for me.

I rebounded later in the week with some comfort food recipes that always warm the cockles of my heart.

Pizzettes with Caramelized Onions, Goat Cheese, and Prosciutto
Giada De Laurentiis

3 tablespoons olive oil
3 large onions, sliced (about 4 cups)
1 teaspoon kosher salt
1 teaspoon freshly ground black pepper
1 teaspoon herbs de Provence
1 teaspoon sugar (I omitted this because I don't think that sugar is needed to caramelize onions)
1 ball purchased pizza dough (about 12 to 16 ounces)
3 ounces goat cheese, crumbled (about 1/2 cup)
2 to 3 ounces prosciutto (about 5 large slices), cut into 2 by 2-inch pieces
Parsley or rosemary sprigs, for garnish
Special equipment: 2 1/2-inch round cookie cutter

In a large, heavy skillet, heat the oil over low heat. Add the onions, salt, pepper, herbs de Provence, and sugar. Stir to combine. Continue cooking over very low heat, stirring occasionally, until the onions are caramelized and dark golden brown, about 1 hour and 45 minutes.
Preheat the oven to 475 degrees F.
Roll out the pizza dough into a 1/4-inch-thick round. Using the cookie cutter, cut out 24 dough circles. Arrange the circles on a large heavy baking sheet. Place a small spoonful of the caramelized onions on each dough circle. Top with a small amount of goat cheese. Bake until golden and bubbly, about 10 minutes.
While still hot, top each pizzette with a piece of prosciutto. Arrange on a serving platter and garnish with sprigs of parsley or rosemary. Serve immediately.


I'm on sort of food kick. Which might sound odd, but recently my culinary escapades had pretty much ground to a halt. I think it was a combination of exhaustion, traveling and just plain having too much to do in other areas.

But I've seemed to have remedied that situation in the last week and half. In the last week I've made not one but two batches of the delectable fried green tomatoes, 4 batches of marshmallows (two lemon and two traditional vanilla flavored), roasted vegetables, and full sunday dinner of pot roast, potatoes and the darkest gravy known to man.

That might not sound like an awful lot but really it has been about all I've been able to fit into my schedule. The marshmallow thing is a new obsession of mine, it began when I made a batch back in June- then they fell by the wayside for a couple of months. But last weekend I made a batch of the softest lemon scented marshmallows ever. They were quite a hit, and several folks told me I should be selling them. I scoff at that idea simply because there is no way I could fit another job into my lifestyle right now. But I have been daydreaming a bit about what it would be like to be surrounded up to my elbows in pillowy marshmallow fluffiness.

Yesterday evening was a flurry of marshmallow making, and thus the new recipe I was going to try for dinner was cast off to the wayside. Roasted vegetables with basil sauce and goat cheese had been the plan, but at 7:30 after having been making marshmallows for over 2+ hours I pretty much said "fuck-it". Instead opting for a light meal of roasted vegetables dressed with olive oil, salt, thyme and lemon. It is one of those go-to dishes that I think every cook should have. It is a play on one my most favorite dishes, Lemon Thyme Roasted Chicken. And the quantities can be adjusted up or down to suit the number of people it would be serving and changed according to the produce one has on hand. In fact it is so simple I really do hate to post the recipe here, since really it isn't much of a recipe at all.

Lemon Roasted Vegetables

1 red pepper
1 yellow squash
4 fingerling potatoes
3/4 head of garlic
1 lemon
white wine
olive oil
thyme

Pre-heat oven to 450 degrees.

Chop all the vegetables into smaller pieces if you need faster cooking (like I did last night). Pull apart the cloves from the head, but leave them in their papery skin so they get especially sweet and caramelized. Dump them into your roasting tin and douse with olive oil (I tend not to go too overboard on oil), several good splashes of the white wine, and a palmful of thyme (fresh is best but all I had on hand was dried and it worked just fine). Squeeze the lemon into the pan with everything else and then pop the spent carcases into the pan as well, they add a lovely depth of lemoniness to the dish.

Squwidge everything around in the pan and top with the lid. Roast in the oven for about 40-60 minutes, and then pop under the broiler so everything gets a bit of blistery darkness to it.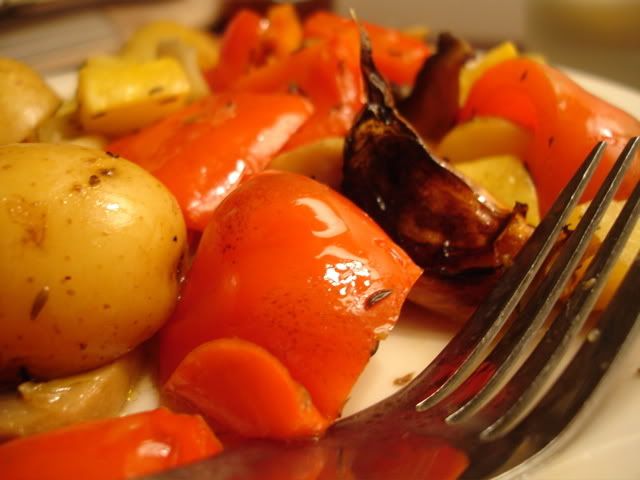 So not only is it the title of a movie, but is actually a delicious food. To be completely honest I never really understood why people were so enamored of fried green tomatoes, of course I'd never had one. But in past years I've become such a fan that I crave them, and unfortunately unless I'm willing to grow my own tomato plants indoors during the winter the window for these delicious babies is so small.

I just have happened to be very lucky this year with scoring them at the farmer's market, because unless you grow your own they are just not to be had. Kroger's for sure doesn't sell them, which is a sad, sad thing in my world (even though I prefer the local farm grown ones). I failed to plant a real garden this year for a variety of reasons, but by summer next year I'm hoping that I will be firmly settled into a place that will have ample room to allow me to plant a garden.

I think my own fiendish need for them comes directly from my father, it has to be genetic just like the color of my hair and the fact that our feet look exactly the same. It's true, my feet are creepy little clones of my father's, both of us must have socks pulled very tight so that our toes are nearly curled under. No lose socks for us! The very thought of them makes me shiver and is the reason I wear children's socks because otherwise I look like an asshole with the heal of my sock pulled halfway up my calf.

But I digress. My father isn't much of a cook, he believes that most foods can be cooked on broil in the oven, but what he does cook is simply fantastic. He makes the most wonderful omelets and scrambled eggs in addition to his amazing fried green tomatoes. His recipe is so breathtakingly simple I hate to fiddle with it but I did, just a wee bit. But it is still his recipe that I use, even though I've experimented with others. I'm not entirely sure that part of it isn't out of pure nostalgia but really sometimes the simplest recipes really are the best. There is a marked lack of fussiness in sitting down with an entire plate of fried green tomatoes in front of the television and enjoying their crispy outer shells and soft green centers.

Dad's Fried Green Tomatoes

1.5 cups of flour
1 tablespoon of onion powder
1 tablespoon of garlic powder
salt
2 eggs
3 medium sized green tomatoes

First turn on your deep fryer to 375 degrees. I've found that deep frying is really the best way to do this, but if you don't have one or would rather pan fry them you can. But I think that they get so much more evenly crispy in the deep fryer, plus I've found it much easier to clean up. Often I've found that pan frying will cause some of the breading to fall off and burn, making for a smoky kitchen.

Slice your green tomatoes into 1/4" thick slices. I know this is quite thin but I've found I prefer them thinner, if you wish for them to be thicker by all means feel free. But too thick might cause the crispy outer shell to become overly browned before the inside reaches it cooked perfection.

In one plate scramble both the eggs, in another mix the flour, onion powder, garlic powder and a bit of salt (about 1 teaspoon). This is where I deviate from my father's recipe, he simply dredges the tomatoes in the seasoned flour and fries them. I prefer to dip them in the egg and then into the flour mixture to give me a thicker coating. Not a large difference in the recipe but I've found that I like a bit more crispiness on the outside of my tomatoes than he does.

In a single layer I place them to dry a bit on a wire rack before plopping them into the oil. It may not look like they are really drying, in fact they might look a bit wetter than when you first placed them on the rack. Don't panic, they will be just fine. Once the oil has come up to temperature, start dropping them into the hot oil. Take care not to overcrowd the pan, this will cause the temperature of the oil to drop and you will end up greasy little discs of tomato rather than crispy ones. I've got quite a large fryer so I can fit about 8 slices of tomato in it at a time without losing heat. A bit of trial and error may be necessary on your part in order to find out how many you can fit in your fryer without a loss of heat.

Let them crisp up on one side and them gently turn them over to crisp up on the other. Occasionally I get fiddly with them and turn them several times. Once they have reached a darker golden color you can remove them from the oil. Place them on a wire rack over a set of paper towels to drip dry, while they are still hot lightly salt. Don't go overboard because you've already salted the flour they just simply need a bit more to be perfect. It is at this point I must stress that you use a wire rack to dry them on, setting them directly on paper towels will wick away oil but it will also make the undersides soggy. If you are concerned about extra oil you can lightly tap the top of each tomato slice with a paper towel.

I usually will make an entire meal of this one recipe, I'm a bit greedy though so you might be able to serve several if you have other dishes. I've had them served to me in all manners, in a sandwich, on a salad, in a pita, etc. But really there is no better way to eat them but straight up with no other adornments, because they really don't need them.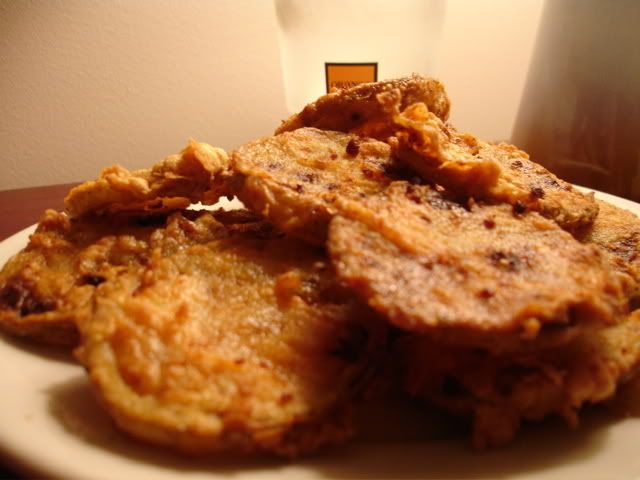 I'll give you all the abbrivated story because the other one is seriously 3 pages long.

I got tickets to the taping of The Colbert Report for Monday night (sept. 25th). I got front row seats right in the center- just by a stroke of luck. I could see everything, I've written a really long post about this but it is way to long and detailed to share because frankly it is a little scary how much shit I detailed.

Then a guy who looked like he might be an assistant came out and said things were going to take a little longer. He asked some trivia questions, the first one being answered by someone in the other section. Then he stood in front of me and asked "What is the name of the segment where Stephen debates himself?" My hand shot up and he called on me, I fairly shouted "Formidable Opponent!" and scored a Colbert Report T-shirt for my knowledge.

Later in the show he introduced the guest and then then came running over to us to hi-five the front row, I'm on screen for all of .5 seconds. Ah, my brush with fame.

After the show Jessica (my roommate from college) and I hung around the stage door waiting for him to come out. He was in a rush and might have taken off if I hadn't asked for a photo. Unfortunately Stephen didn't smile for me and sort of has crazy runaway bride eyes. I felt bad because clearly he needed to be somewhere, but I did also ask him to sign my t-shirt that I won. There were two other people who also wanted photos, and he did those and then walked so fast he was almost jogging-he hailed a cab and drove off into the night.

OH! And he made all of us who wanted a photo stand on his right side since that was his good side. Ha! Like that man has a bad side.

Here is the t-shirt I won and made him sign. He misspelled his own name he was in such a hurry: