Ah, The Maple Festival- that glorious time of year when it a-ok to gorge yourself on delicious maple goodness.

I really wish I could express to the legions of non-locals how wonderful the Maple Festival is. But really it should be self explanatory, because people- it is a Festival. Of. Maple.

Maple candy, maple syrup, maple cocktails, maple stirs, pancakes, maple cotton candy, etc.

Maple stirs are heated maple syrup that you stir until it becomes a smooth and creamy consistency. So delicious: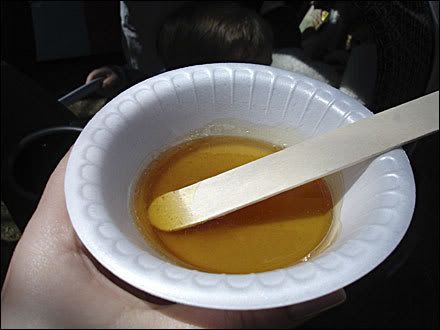 And of course Maple cotton candy is pretty self explanatory. This is Chet, my best friend's son. I usually hate messy kid (really, really hate them) pictures but this one is hilarious to me because he looks like he could kick someone's ass for touching his cotton candy.




I totally bought three bags of the maple cotton candy and have been slowly feasting on it for the last couple of days. Yesterday I convinced my coworker to join me in the maple cotton candy eating at 9am since technically maple is a breakfast food.