As easter approached and I had no real plans since I opted out of going to my parent's house for the weekend I was waffling about what to make for dinner. I'm not a fan of ham, and lamb seemed a bit too tedious for me this particular weekend.

I settled on the super easy supper of roasted chicken and lazy mash. I, of course, turned to my food goddess, Nigella, for direction. See, up until yesterday afternoon I've never roasted my own chicken. Partly because one of the local grocers makes the most fantastic rotisserie chicken I've ever tasted and it is a real treat to pop over there after work and pick up one (you must call in advance and reserve one if you want it- otherwise you are most likely not going to find one available). I usually go home and devour it, completely looking like some sort of chicken crazed beast covered in chicken juice and fiercely guarding the carcass for soup stock.

So yesterday I popped half a lemon into the cavity of the bird, and set it into the oven to roast. Oh my god, it was fantastic.

But what was even better was the delicious reduction that Nigella instructed me to make out of drippings. I'm usually a traditional gravy type girl so I was skeptical that I would love a reduction of juices that much, but I honestly was tempted to lick my plate clean.

I paired the chicken with fresh, lightly roasted asparagus and purple Peruvian mashed potatoes, which made for a very easter-pastel-perfection plate. The purple mash was fantastically creamy (a natural attribute of the potatoes) which was enhanced by the addition of real cream and butter.




Nigella's Roasted Chicken:

1 whole chicken (about 4lbs)
2 tablespoons butter
Olive oil
One lemon

Bring the chicken to room temperature, and heat oven to 425 degrees. Rub the butter onto the chicken, it is best if the butter is at room temperature when you try to do this. Drizzle the bird with olive oil and put half of the lemon into the cavity.

Roast for 1 hour 15 minutes at 425, remove from oven and let rest for 15 minutes before carving. Squeeze the last half of the lemon over top and add a bit more salt. Deglaze the roasting tin with a bit of water and heat through till you have a delicious thick syrup-like dressing.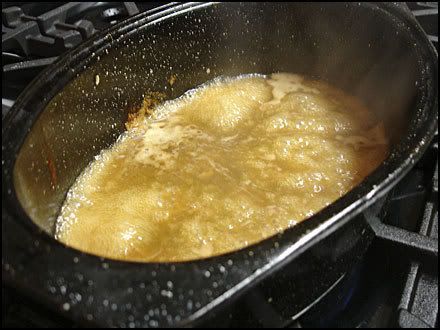 Carve up the bird and spoon over the dressing.

Suzanne's take on Nigella's Lazy Mash:

10 small purple peruvian potatoes
cream
butter
salt

I roasted these for about 30 minutes next to the chicken and then roughly mashed them up and added to taste some cream, butter and salt. Really, you just need to keep tasting them and you'll know when they are right.

Perfectly roasted asparagus:

Bundle of asparagus
olive oil
salt
lemon

Now it may seem silly to hand out a recipe for roasted asparagus but really I think people tend to over-cook this lovely veg.

Heat the oven to 350 degrees and on a cookie sheet arrange the asparagus so that they are not overlapping each other. Drizzle on the oil and jumble them about a bit so they are well coated, lightly salt and then pop into the oven for 8 minutes.

Remove from the oven an squeeze over half the lemon and serve. So simply dressed but perfectly cooked. I could eat whole plates of them for dinner and nothing else (and have.)